Why J-Lo's engagement ring from Ben Affleck is soaring in value right now
 As rumours around Ben Affleck and Jennifer Lopez reigniting their old flame continue to burn this week, diamond experts at Steven Stone, have taken a fresh look at the impressive engagement ring he bought for her back in 2002.
Flashing the huge rock in an interview with Diane Sawyer, J-Lo said: "It's the most magnificent thing I've ever seen," and she's completely right. The engagement ring is a massive 6.10 carat radiant cut, designed by celebrity jeweller Harry Winston, which reportedly cost Ben Affleck a whopping £855,000 ($1.2 million) at the time.
However, now, as pink diamonds have soared in value, J-Lo's ring is worth a lot more than it was back then. Our diamond experts estimate it's worth over double the price now, valuing the ring at £2,000,000 ($2.8million).
Zack Stone said: "There are certain types of diamonds which can make good investments. These include pink diamonds, which are much rarer and generally very expensive, starting from £50,000 to around £10,000,000. 
"Pink diamonds have seen the biggest growth in value recently as the Argyle Diamond Mine in Western Australia, the world's major source for pink and purple stones, closed down at the end of 2020, therefore prices have increased in recent months due to the increased rarity."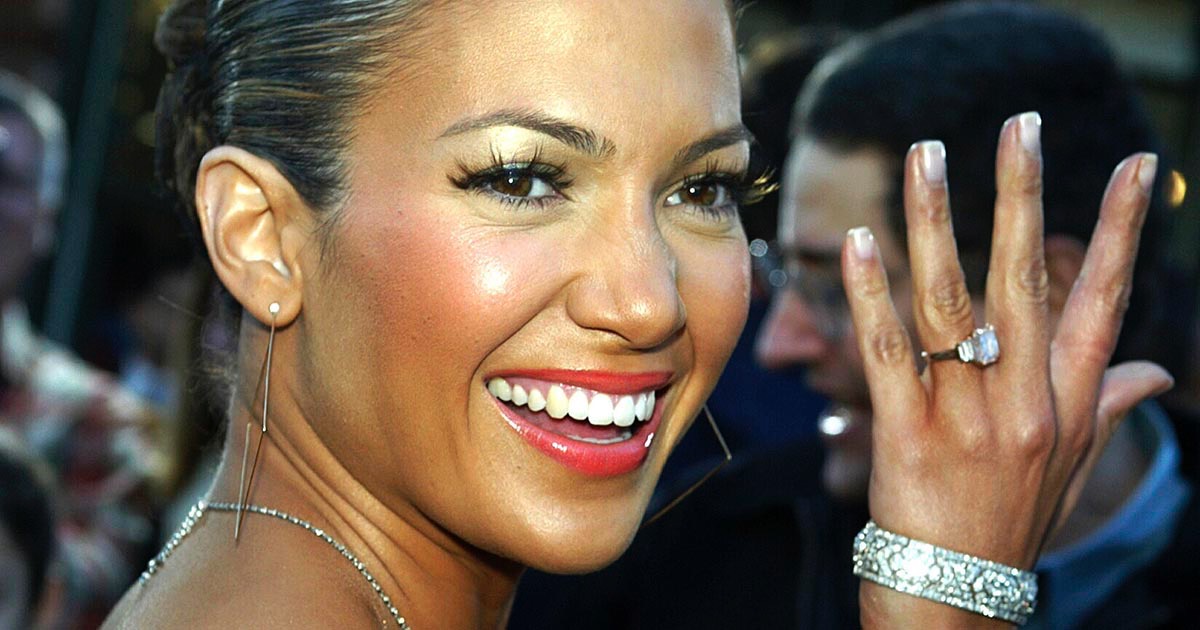 Furthermore, in 2019, Christie's Hong Kong sold a incredible five carat cushion cut vivid pink diamond for a staggering $11 million. However, by 2016, a pear shaped fancy vivid pink nine carat diamond sold for $18 million, then by 2017 a 15-carat fancy vivid pink sold for $32 million.
J-Lo's ring is incredible, there is no doubt about it. The pink radiant cut 6.1 carat diamond is paved with white diamonds. As a Harry Winston design, the diamond is likely to be of the highest quality and clarity.
This month, Google searches for the ring have doubled in comparison to last month, as fans are keen to revisit the iconic relationship and the ring that blew the world away. In the UK and US, search terms such as 'Ben Affleck and Jenifer Lopez engagement ring' received 4,460 searches in comparison to 2,860 in March and 1,540 in February. 
If that wasn't enough, J-Lo isn't the only one who was given a pink diamond engagement ring. 
Tennis star, Anna Kournikova, has a ring featuring an incredible 11 carat pear-shaped pink centre diamond, flanked by trillion-cut diamonds. The pink diamond in Anna Kournikova's ring is even from the Argyle Western Australia which is now closed down, making it irreplaceable. When her fiancé, Enrique Iglesias, proposed in 2004, the ring was valued at £3,849,300 ($5.4 million), however, now it's around a staggering £5,270,000 ($7.4 million).

Victoria Beckham also has a pink diamond ring, which makes up just one of her 15 engagement rings. David bought her this ring to celebrate her 30th birthday, which reportedly cost £835,000 at the time. However, now, the pink champagne diamond ring in a halo setting could now be worth £1,990,000.
Blake Liveley is another A-Lister donning a pink diamond. The engagement ring features a solitaire-set oval pink diamond on a rose gold pave setting, designed by celebrity jeweller, Lorraine Schwartz. The stunning blush coloured centre stone is around 12 carats and is flawless in clarity, meaning it's the highest quality diamond you can find.
If you're in love with pink diamonds, but can't afford the celebrity price tag, there are other options. Lab grown diamonds are much more affordable than natural diamonds and can be produced in a number of different shades - including pink. 
You can find a pink lab grown diamond engagement ring from around £1,000 to £2,000, however the weight of the diamond will alter the cost. If you're interested in finding out more, speak to one of our team or take a look at our bespoke process.